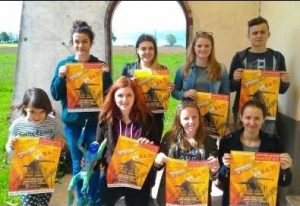 The aim of this executive board is to communicate the spirit of BASTID'Art and to train the youngest to the festival organization responsabilities to enable them to take over.
This young executive board has, since 2016, a budget to establish projects that will be debated during the committee meetings. 
They meet once a month and they can ask for the adults help to take decisions or to look at their projects. 
During the meetings, an order of ideas is followed but everyone can speak to express its ideas, its wills, …
If you are between 7 and 25, do not hesitate to inquire to be part of  BASTID'Jeunes.
---
Current projects…
CALL FOR YOUTH !
"According to you, what is the street art? ?"
Send us a creation (drawing, painting, montage,…) and participate to the poster contest "Coup de Coeur" between the 21st of May 2016.
Drop your masterpiece off at the BASTID'Art, either to CIRKéZIK in St.-Colomb de Lauzun,  or in an urn at our place.
The best creation will be chosen by our BASTID'JEUNES jury.
Your poster will be used for the BASTID'ART Festival 2016.
The creation has to be done like this:
→ produced on your own, between 8 and 25 years or by groups of 5 people maximum
→ contains the nouns of the artists, class and contact details on the back;
→ it has to express what is the street art according to you  (dance, circus, music, theatre,…)
The winner or the winners will have an Integral Pass giving access to all the shows of  the 2016 BASTID'Art Festival.
All the other posters will be displayed in the Rue des Mômes or in the Town hall!
Get your pens !