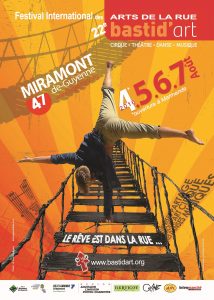 → Presentation
The 22nd edition of the International Street Art Festival BASTID'Art  will take place in Miramont from the 5th to the 7th of August, with a beautiful opening night in Marmande the 4th of August.
Over the years, the festival succeed in welcoming artists from all over the world, thanks to meetings and crushes.
The association wants to represent a lot of artistic domains in the street: Circus, Theatre, Dance, Music, Puppets, Plastic Arts, Magic… Thus, more than 160 free shows animate Miramont.
BASTID'Art is a family festival ! An area is espacially created to welcome the young audience: the "Rue Des Mômes", with adapted shows for all ages,  activities and games.
→ Program
Online soon…